prevzato od kolegu z UK, nechavam v originale
https://www.tenere.co.uk/forum/viewtopi ... 4&start=10
Air: If you have a spare 3AJ output shaft you may be able to use that, it has the finer splines already which make it more durable.
As for airbox mod, if you can not get a complete 3AJ airbox (with carrier for the foam filter) you may just plug up the 1VJ front air inlet and make some holes into the maintenance plug. Using a 3AJ plug there with the snorkel would require the flatter 3AJ carrier.
Oil temperature: swapping the oil tank cover on the right side for a vented one does lower the oil temperature considerably.
I did modify my front fender ...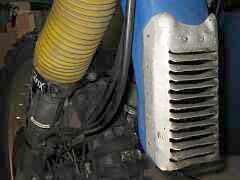 Later 3AJ models do have a different oil system, there is an extra external oil line from oil filter to gearbox top, but some changes on the inside go with that so you need matching block and clutch cover for that.
Scottieh, are you sure you can fit a 3AJ oil cooler under a 1VJ tank? From the looks its very tight ...
Mix and match heads:
As mentioned there was a change in cylinder heads after/during the 1VJ model period, later ones have an additional bolt so are easy to identify.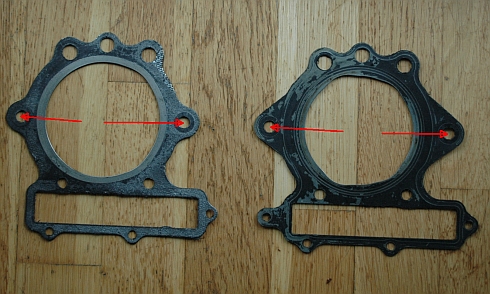 Electrics:
3AJ and 1VJ are very similar, on the ignition there is one different plug (for the pickup), and there is some different light wiring, but thats it.
Battery
Lithium is the way to go if you do not do winter riding. Which is why I still stick to lead ... Lithium would be so much lighter!
The regulator is worth upgrading, we had several failing over the past years, they are getting tired after 30+ years but can be easily replaced with standard parts (preferrably with some cooling fins). I am carrying a spare, as well as a CDI and a stator on remote trips, for the same reason.
Other modifications:
I did
manual decompressor lever (like on older bikes)
knob type choke, directly on the carb
external in-line fuel filter
getting rid of the fuel pump
replacing the chain guide rollers for KTM chain guides (sliders)
smaller sprocket (14 or 15 depending on where we ride)
switched from hard case aluminium boxes to soft luggage panniers, and went to small or no tank bag
added some stuff (holders and sockets) for navigation
TETworthiness
I always would go for a kickstart enabled bike.
For the European TET, especially the Balkan bit, I would recommend to keep the Tenere as light as possible. Some technical stuff in there ... especially after it rained.
I never needed more than 250 km worth of fuel so did not fill up the tank completely.
Be prepared to pick up the bike at some point so a soft and low center luggage system is key.
We had some guys whose shifter/brake pedal destroyed their engine covers when the bike fell, so it may be worth beefing the covers up with some extra Aluminium plate.